News Post
活動

九月 2. 2021
AOBA'S COMIC BOOK CONTEST
Calling all artists! In celebration of Guardian Tales' first anniversary, we want to create a comic book! Using our template, create a 1-page comic of one of your favorite moments in Guardian Tales or create your own story using your favorite heroes! We will put up our favorite submissions in a community vote and the Top 20 winners will have their comic made into an actual comic book!
Event Schedule
Submission Period: August 9 - 22 (14 days) August 9 - 29 (21 days)

CM Review: August 23 - 26 (4 days) August 30 - September 2 (4 days)

Community Voting Period: August 26 -30 (5 days) September 2 - 6 (5 days)

Winners Announcement: September 2 September 9

In-Game Reward Distribution: September 2 September 9
Instructions
Using the provided template (please go to the Template section below), create a 1-page comic of your favorite story from Guardian Tales or make up your own story using your favorite heroes from Guardian Tales.

Submit your entry by uploading your comic with the "Aoba's Comic Book Contest submission" subject and providing the information requested. [SUBMISSIONS CLOSED]
Include your User Number and Region (NA, EU, OC, or LA).
You can find your region by looking at the top right corner before you tap to start the game.
You can find your User Number in the game under Options (gear icon at the top right corner) > Account Settings.

Once all entries have been received, the CM Team will review all entries and select 40 of their favorite comics.

During the voting period, vote for your favorite comics, and at the end of the voting period, the top 25 comics with the most votes will be selected as the winners.
Template
Please use the following template to create your design: [HERE]

The first cell is mandatory as the title cell. Please use text to title your work in the title cell. You are free to add as many cells in any shape or form within the remaining space provided.

Please submit your design with the following restrictions:

In one of the following formats: JPG, PNG, TIFF, or PDF

Please use the following file naming convention: UserNumber_Region.jpg or UserNumber_Region.png or UserNumber_Region.pdf
For example: 123456789012_NA.jpg or 123456789012_NA.png or 123456789012_NA.pdf

Width: 9in x Height: 7in or
Width: 23cm x Height:18cm or
Width: 2700 px x Height: 2100 px

Resolution: 300 Pixel/Inch (DPI). Please make sure that your file is at a printing standard of 300 DPI resolution with a Color Mode: CMYK 8 bit.
To start a new project in Photoshop: File > New > Resolution 300 Pixels/Inch and Color Mode: CMYK 8 bit. Please see below.



To Export in Photoshop: File > Save As > Dropdown box to JPG, PDF, or TIFF
or to export in PNG: File > Save For Web > PNG-24 and uncheck Convert to sRGB

To check what resolution your file is in: in Photoshop go to Image > Image Size > Resolution should say 300 Pixels/Inch



Panel Stroke: 10px

Please do not exceed 100MB in file size
Example: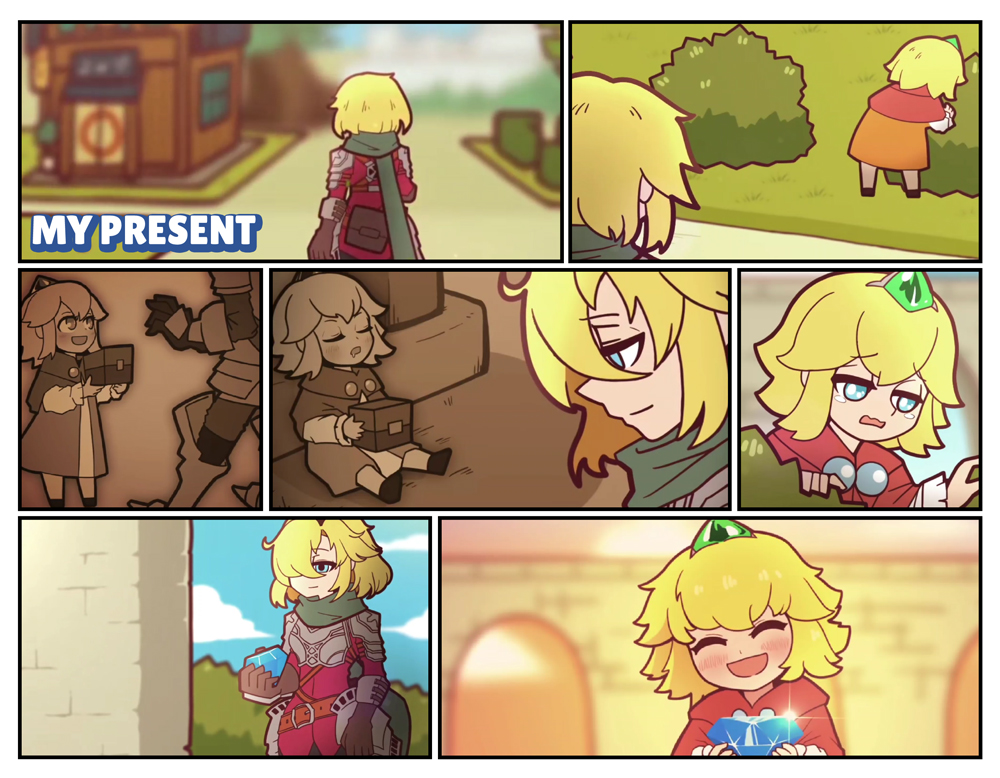 Rewards
20 Winners will receive:

Comic Book (Physical Copy)

3,000 Gems

10 Runner-Ups will receive:

50 randomly selected participants will receive:
Rules
You may turn in multiple submissions, but only 2 of your submissions may be eligible to receive rewards

In fairness, if your artwork was already featured on our social media as part of the Content Creation Program, it will not be eligible for this contest

Eligible submissions must include all of the aforementioned requirements in the [Instructions] and [Template] sections in English

This event is only open to players in the following regions: North America, Europe, Oceania, Latin America

Winners will be asked to show proof of ownership

Top 40 winners will be selected during internal screening by the Community Manager Team here at Kakao Games EU B.V and Kakao Games USA Inc.

Designs with inappropriate, trolling, abusive, inflammatory or violent content against our terms and policies and/or breached online conduct will be rejected

Plagiarism is not allowed! Your submission will be disqualified if they are copied (any elements of others' creations cannot be used), so please submit your original work

If your account was deleted or banned for violating the game policies during the event/reward period, you will be disqualified from the event. You will not be able to receive any rewards even under a new account

Rules and event specs are subject to change

By submitting your comic book design or artwork ("Entry"), you are agreeing to give the Intellectual Property and Publicity Rights of your unique work to Guardian Tales. In detail, by submitting an Entry, you hereby grant to Kakao Games USA Inc., Kakao Games Europe B.V., Kong Studios, and each of its affiliated companies, a worldwide, non-exclusive, perpetual, irrevocable, transferable, sub-licensable, royalty-free license to use your name, e-mail address, city and state of residence, or other information supplied by you ("Personal Information") to identify your Entry in the Uses, without any obligation of attribution or compensation to you. As used herein, "Uses" shall mean the uploading and posting of your Entry (or derivative works thereof) on the Guardian Tales Facebook, Twitter, Instagram, and Discord pages, Guardian Tales official website, and otherwise the exploitation of your Entry (or derivative works thereof) in any format or medium now or later developed, including, but not limited to, merchandising, events, and other promotional activities. You understand that the Uses licensed to Kakao Games USA Inc., Kakao Games Europe B.V., and Kong Studios may include: public display of your Entry on Guardian Tales and unrelated websites; creation of Entry collection including your Entry and the photos, video, and text of other Entrants for commercial sale; and incorporation of your Entry into Guardian Tales mobile game products.
Adventurers Assemble!
The Guardian Tales Team